THE ANIMALS OF CHIVAL
"At Chival, whether you have fur, shells, or feathers, you're an animal and you're welcome!"
At the time of Antropocene, where humanity is responsible for the 6th mass extinction of animal and plant species, where livestock industry is one of the first causes of global warming and the era of misinformation prevents any critical and benevolent debate on our relation to animality, is it not time to question our hegemonic right to life and death acquired by the strength we have granted ourselves to submit all species of the planet and finally act with intelligence, responsibility and respect?
What if everything started with a raise of consciousness…
At the small sanctuary of Chival live in harmony horses, dogs and hens coming from rescue. The so-called "domestic" animals come from shelters and the "farm" animals called are rescued from the hell of slaughterhouses. For wild animals such as boars, butterflies, hares, foxes, bees, bats, squirrels, lizards, buzzards, sphinx hummingbirds, deers, frogs, owls, snails and many other inhabitants, we are a place of protection of biodiversity for the fauna and flora. Filled with gratitude, we are amazed to see our dear neighbors who are so different and yet so alike flourish as the seasons go by. Inform, educate and protect biodiversity, here are some of our actions.
The residents
The Spanish ones: Pacha and Skippy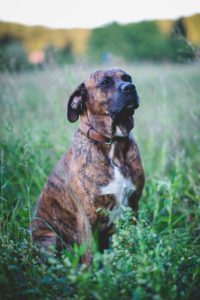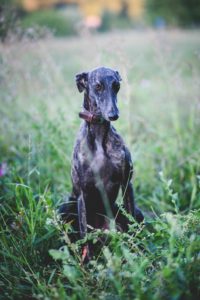 The sweet Pacha was adopted in extremis a few days before being euthanized in a Spanish refuge. Indeed, shelters being mostly overcrowded by abandonment and abuse, animals can not all be kept. The feline Skippy has avoided the traditional hanging or the burning of the end of the hunting season in Andalusia. Discover here why so many galgos suffer such atrocities in Spain.
Instead of buying a puppy and keeping the global and juicy trade of animals alive, let's give a chance to the dogs/cats in the shelters nearby and question our relationship with the animals more widely, in order to treat the problems of suffering, neglect and abuse at the source.
The horse's island: Rozanna and Michel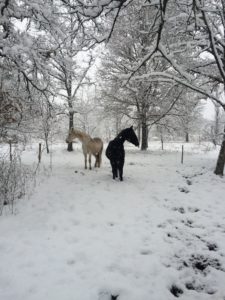 The black stallion Michel was saved from the slaughterhouse. After a career in horse racing, he injured his leg and had to be immobilized to regain full health: unfortunately no longer competitive, he was "reformed" (ie sentenced to the slaughterhouse to finish, why not, in lasagna!). Wild Rozanna, meanwhile, is a sport mare who has finished her competition career to come and live happy days in Chival.
Instead of supporting the trade and exploitation of horses, give them the dignity and freedom they deserve, and again, treat root causes.
The kingdom of hens: Ariel, Nala, Jasmine, Aurore, Alice and Blanche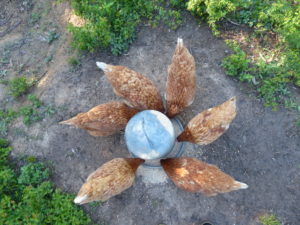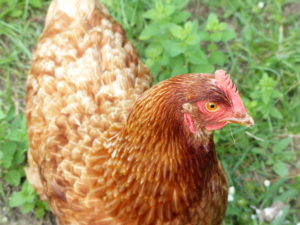 Our wonderful hens have recovered from the plight of a organic farm in the region. Squeezed with 500 sisters in a tiny space, living a third of their short lives on the outside, bloodied and mutilated by their cannibal attacks caused by the lack of food and space, here is what their daily life was. Is this a widespread practice or an isolated case in France and around the world?
The organic animal farmer,  "a big lover of animals" according to him, gets rid of his 500 hens annually in order to keep optimal exploitation productivity, by renewing his stock of laying hens. However, the vast majority, not to say almost all farms producing the eggs that we buy, whether industrial or family, biological or not, laying hens are sent to the slaughterhouse every year for the sake of productivity. In the breeding industry, they are called "hens of reform", which does not mean "to retire to a paradise place and die of old age", but rather "no longer being productive enough after about a year, so sent to the slaughterhouse like billions of congeners ". As a reminder, hens can live more than 10 years!
One would think that by eating eggs, we do not support the death of hens, while the reality, as we have seen, is quite different. By the way, where are all the brothers of those laying hens: the male chicks? Discover what sexage is about, which is the practice of sorting male to female chicks when they are born. Male chicks, having no economic interest (because they do not produce eggs) are simply crushed or gassed in the first days of their lives.
Do you value your taste more than the innocent life of an animal?
Of course not! That's why here are some recipes that are easy to make (pancakes, croissants, pies and cakes for all tastes) so that you can enjoy the same dishes without causing useless and unjustifiable suffering to our dear friends the hens. It's very simple and they thank you greatly!
Together: Let's take care of the Earth and the Living, take care of Humans and Animals, and share the wonders of Knowledge, Skills and Abundance.